Coming off two stage wins at the Tour de Langkawi this year, it's safe to say that 27-year-old Travis McCabe is on fire heading into Tour of the Gila. McCabe lit up the race last year, winning stage 2 and the overall points classification sprinters jersey.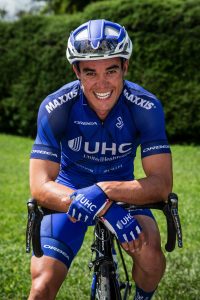 We expect the American sprinter to light up the streets of historic downtown Silver City on the fourth stage yet again, this time with his new team – UnitedHealthcare Pro Cycling. Tour of the Gila sat down with McCabe to discuss all things Gila racing, from being a marked rider to pre-race nerves.
Talk to us about the downtown criterium. How would you describe it?
This crit can be one of the hardest crits or one of the easiest crits to do depending on how you approach it. Being at altitude with that hill, it's pretty tough. It's certainly a fun race because you get a great crowd out watching every year. I'm looking forward to racing hard and seeing what happens.
Is it tough being the marked rider in the bunch?
No, it's nice because you have the respect, you don't have to fight for wheels as much. It's pretty, fairly relaxed. I know not to really get frustrated anymore like I used to when guys follow me. I just let the race come to me.
It seems like as your career has progressed, your confidence has blossomed, would you agree?
It's given me a lot of validation that I've been doing the right work, all the way through San Luis where I was third at one of those stages. I think it does give me quite a bit of confidence but at the same time, racing at big races like Tour of California it's a whole other level. Racing it last year, I kind of got the first taste of what it takes to sprint against those big guys. I struggled with position a lot and wasn't quite there.
You'd say that the number one thing is position at that level?
Yea, positioning and just being comfortable on the bike, you get pushed around a lot more. It's like a pecking order, I mean, at Gila, the amateurs are really trying to fight to stay up with the pros and us. Since we don't know them we won't just give them a wheel. It's the same thing at the WorldTour level – they don't know us and they look at us almost like amateurs. It's a lot more fighting. It's just more difficult at a completely other level. The WorldTour guys push you around a lot more when you're not wearing a WorldTour jersey, so it's a lot of fighting. I'm getting used to it.
How does the Gila help you prepare for the bigger stage races? You're at altitude and at one of the toughest stage races on the domestic circuit.
It's ideal! It's great because I pretty much come to Gila for the altitude and racing. I know it's a hard week.