Women see GC shakeup; men's overall holds
UCI Women
Rally UHC Cycling showed Thursday that pure grit can power you to the top of the podium as Heidi Franz stuck a break with several other riders, climbed away from them, then never gave up as she barreled toward the finish in a two-up drag race that ended in her first UCI win.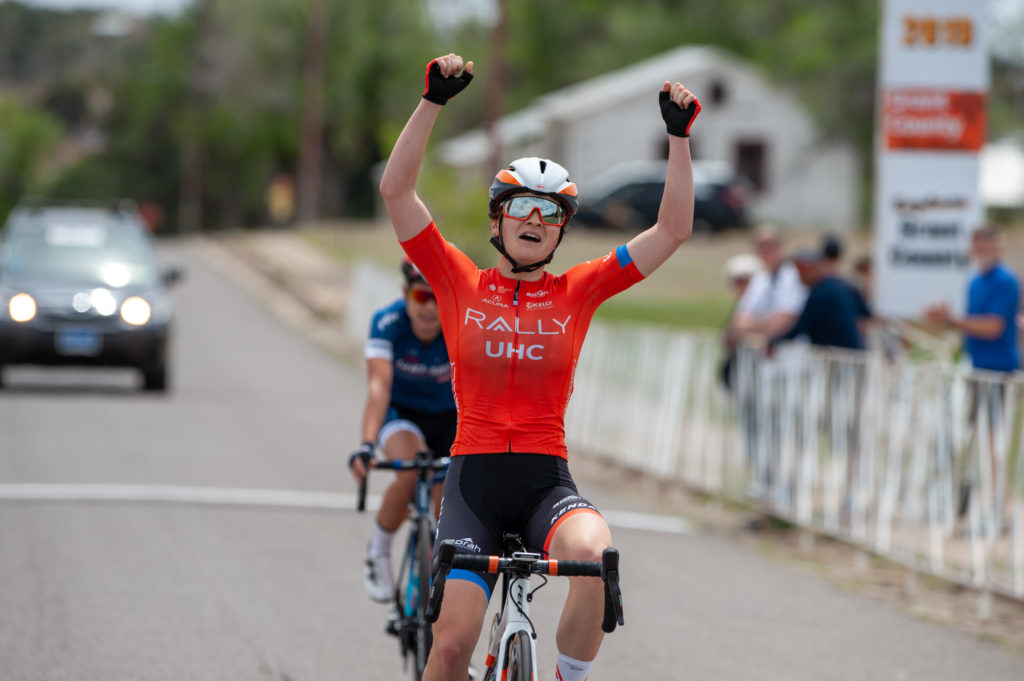 Franz bested Olympic bronze medalist and world champion, Canadian Jasmin Duehring (Sho-Air TWENTY20), after the two attacked with less than 15 miles to go from a breakaway of five riders. But Duehring's efforts made up a minute and 46 seconds on GC and gained 12 seconds to put her in first place overall.
"It feels unbelievable," Franz said. "I've never … it was my first professional win, first UCI win, and I just can't thank the team enough. It's really emotional for me. It just gives me a lot of confidence that I hadn't had before, so I'm just so happy, just really happy."
Franz said an initial breakaway established just over the second QOM in which she and her teammate Abby Mickey worked with Leigh Ann Ganzar (Hagens Berman | Supermint), Deborah Paine (Donne Aevolo) and Erica Clevenger (Sho-Air TWENTY20).
"Abby Mickey and I, my teammate, we were both in it — we were happy to roll it — and then at the bottom of the descent [Edwige] Pitel bridged up, so suddenly we had to stop working because she was there, just to protect Krista's [Doebel-Hickok] position in [general classification], and then Leigh Ann Ganzar sort of separated the breakaway," Franz said. "She attacked, and Erica Clevenger and I followed, and then it kind of bounced back."
Disorganization marred the breakaway as teams' strategies varied to protect GC positions for much of the time they were off the front. Pitel (Femme Équipe p/b Swisse Wellness) was sitting in second place on GC and appeared and reappeared in the break often.
"There was a lot of shifting around in the breakaway," Franz said. "It was a little chaotic sometimes."
When Duehring attacked over the last few rollers with less than 15 miles to go, Franz said she followed her and the two worked together all the way to the finishing straight.
Then the gloves came off and Franz had the legs to carry her over the finish line before Duehring. Ganzar rounded out the Stage 2 podium by beating Mickey to the line.
How the race began
The Inner Loop Road Race started off with teams organizing at the 1.5-mile mark to set up for the first intermediate sprint. A bunch sprint ensued and sprint leader Chloé Dygert Owen (Sho-Air TWENTY20) took first-place points, followed by Ana Maria Hernandez Delgado (Durango-Specialized) and Doebel-Hickok.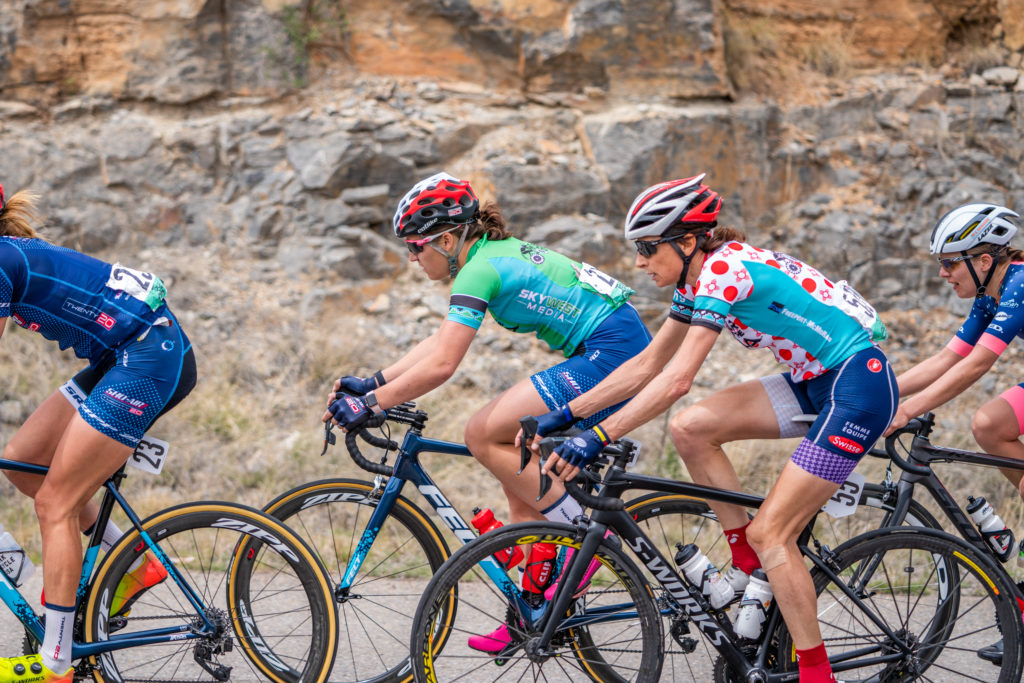 "Sprint points also mean bonus seconds, so that's I guess kind of the main point of going for it," Dygert Owen said. "It's nice to have the jersey, but if I can gain all the time in the sprints, and then try to have a really good time trial, go after the leaders jersey and see how it goes."
As the first QOM approached at 11.6 miles in, race leader Brodie Chapman (Team TIBCO-Silicon Valley Bank), Pitel and Doebel-Hickok had a slight advantage on the field. When they crested the climb, Chapman came away with first-place points.
Then a break of about 35 riders separated themselves from the field on a winding descent, and six riders had a slight advantage, but were swallowed up by the group.
As they approached the second QOM, Pitel drilled it to secure first-place points. As the group picked up speed on the descent, the initial break of Franz, Mickey, Ganzar, Clevenger and Paine gained a 30-second advantage. Pitel and Duehring then bridged up to make it seven.
Other riders saw an opportunity to either join the break or pull it back. Emily Newsom (Team TIBCO-Silicon Valley Bank) and Lindsay Goldman (Hagens Berman | Supermint) gave chase, but right as they caught onto the group, attacks ensued.
Franz, Ganzar, and Clevenger took off with Duehring and Mickey chasing, followed by Newsom, Paine, Pitel and Scotti Lechuga (Donne Aevolo), who came across.
Finale
At mile 41.5, the second intermediate sprint points were gobbled up by Clevenger, Ganzar and Franz, and with 10 miles to go, Franz picked up the final QOM points, followed by Duehring as the two would head toward the finish and stay away before Franz ultimately won.
"When Heidi and Jasmin went with about 20 [kilometers] to go, it was on an uphill and I just didn't quite have the legs, and so I had to chase for the last 20 [kilometers]," Ganzar said.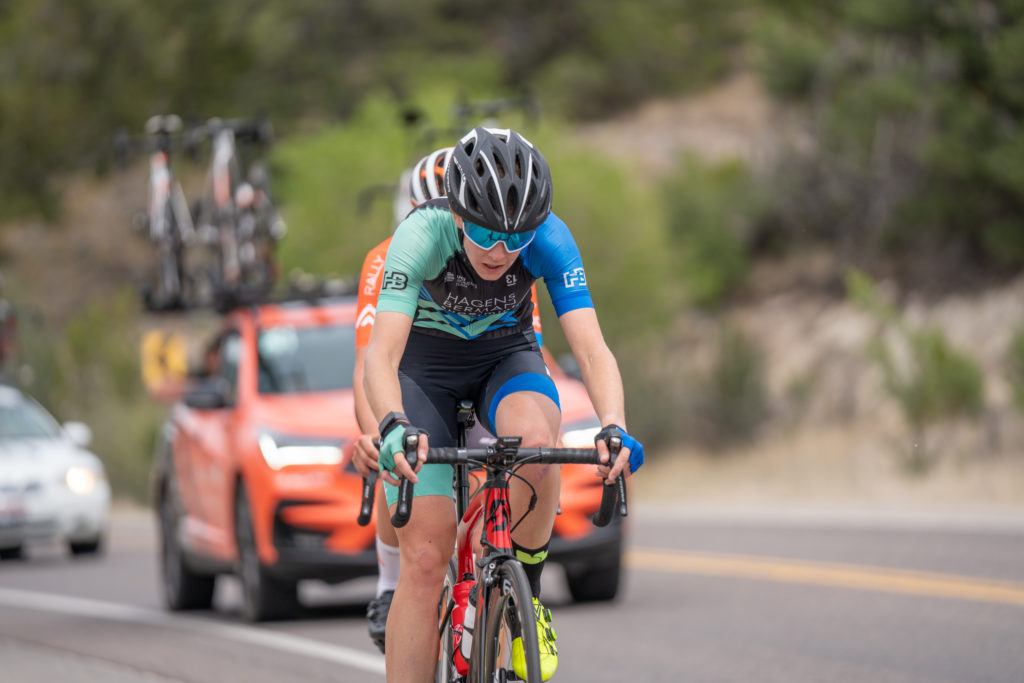 With Duehring now sitting in first place and Dygert Owen picking up time bonuses, Sho-Air TWENTY20 has two big cards to play heading into Friday's Tyrone Individual Time Trials presented by Freeport McMoran.
"It worked out exactly how we talked about — getting [Jasmin] in a break — so it was all around a good day for all of us," Dygert Owen said. "I have a really good coach and a lot of support behind me. Really the only thing I have to worry about is my legs — I have super mechanics and everything to help get everything situated, so it's going to be full gas day tomorrow, just full gas."
General Classification
Jasmin Duehring (Sho-Air TWENTY20)
Brodie Chapman (Team TIBCO-Silicon Valley Bank) – 12 seconds back
Edwige Pitel (Femme Équipe p/b Swisse Wellness) – 27 seconds back
Sprint Leader
Chloé Dygert Owen (Sho-Air TWENTY20)
Heidi Franz (Rally UHC Cycling)
Leigh Ann Ganzar (Hagens Berman | Supermint)
Queen of the Mountains
Brodie Chapman (Team TIBCO-Silicon Valley Bank)
Edwige Pitel (Femme Équipe p/b Swisse Wellness)
Krista Doebel-Hickok (Rally UHC Cycling)
Best Young Rider
Chloé Dygert Owen (Sho-Air TWENTY20)
Heidi Franz (Rally UHC Cycling)
Alice Cobb (Team TIBCO-Silicon Valley Bank)
Team Classification
Sho-Air TWENTY20
Rally UHC Cycling
Team TIBCO-Silicon Valley Bank
UCI Men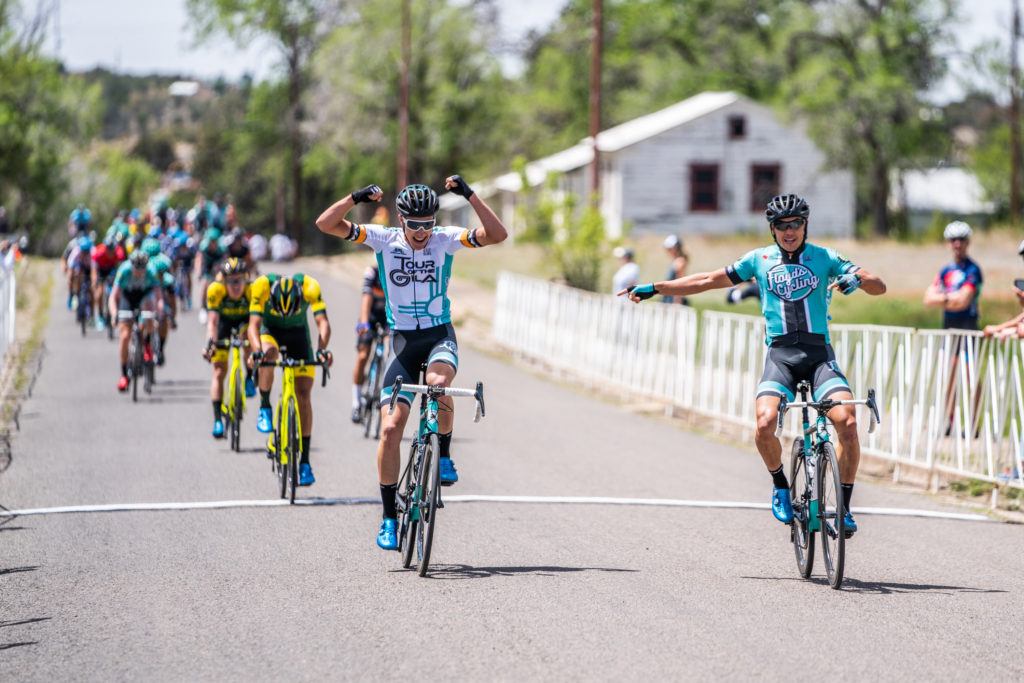 Floyd's Pro Cycling's dynamic team strategy and experience paid off Thursday at Tour of the Gila Stage 2 when the field caught six-man break and the team sent their veteran sprinter Travis McCabe to seal the deal in the last 800 meters and post up for victory.
McCabe's teammate, Alexander Cowan, had attacked solo at about 23 miles into the race before five others joined him. When the field closed in with less than 10 kilometers to go, it was left up to McCabe's lead-out train to deliver him to the finish.
"I was kind of hoping the break would stick," McCabe said. "I mean it was pretty exciting racing, but I wanted to see Alec get a chance, so I mean it worked out perfectly."
It was McCabe's first major stateside victory this year. He recently won the sprint jersey and a stage at Tour of Langkawi. He said his team was patient as Elevate KHS Pro Cycling reeled in the break to defend James Piccoli's general classification lead.
"They had to do a lot of work to bring it back in the last bit, which allowed us to stay fresh and go hard the last three or four [kilometers] when we hit the front," McCabe said.
McCabe said teammate Serghei Tvetcov took a big pull from three kilometers to go, followed by teammate Jonathan Clarke and Nickolas Zukowsky. He said his experience at the Inner Loop Road Race paid off.
"It feels pretty great to win here again and to go one-two in today's stage," McCabe said. "We know this course really well. I've won here before, I think this is my third or fourth time winning, so I know the stage, I know when we need to go. We waited until we knew we had to hit the front and just didn't let off the gas as soon as that was the case."
How the race unfolded
The Inner Loop Road Race started off with nearly a five-mile warm-up over some long rollers until the first sprint point. Teams began to organize, and two familiar faces emerged — Aevolo's Michael Hernandez and DCBank Pro Cycling's Travis Samuel. The two duked it out yesterday for sprint points, which resulted in Samuel wearing the green jersey.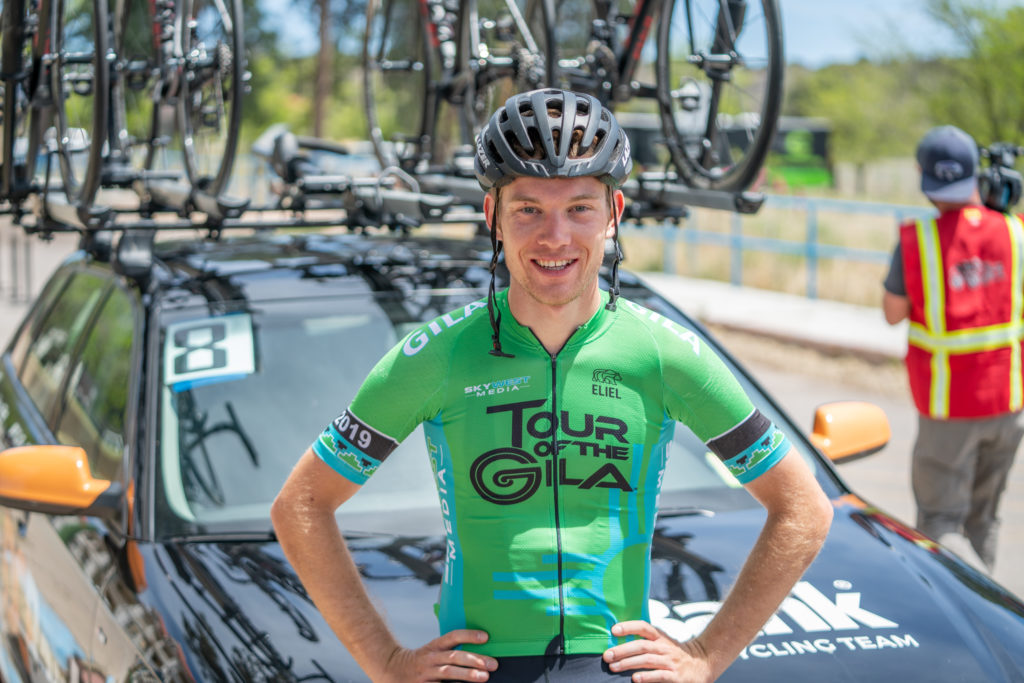 But Hernandez nabbed the first intermediate sprint Thursday, with Eric Young (Elevate KHS Pro Cycling) in second and Samuel in third. Attacks then began to fly and an eight-man break formed through some steep sections, but was quickly reeled in by the peloton.
After the first KOM, in which Team Medellín's Cristhian Montoya Giraldo drilled it up the climb and secured first-place points, his teammate, Fabio Andres Duarte Arevalo and Tvetcov escaped down a screaming descent before the field sucked them back in with 2.5 kilometers before the second KOM.
About 23 miles into the race and just after the second KOM, which was won by Austin Stephens (303 Project), Cowan slipped away into a solo break, putting 30 seconds into the field. A few miles later, none other than Samuel bridged up to join him, and the two began working together to stay away in the remote hills. It paid off for Samuel, who won first-place points in the second intermediate sprint 41.5 miles into the race.
"Today was another hard day on top of yesterday's hard day," Samuel said. "I mean the first goal was to try to get some points at the first intermediate [sprint]; unfortunately, I lost to Hernandez so it forced me to have to be in the break."
A group of four riders — David Greif (Project Echelon Racing), Chad Hall (Team California), Lance Haidet (Aevolo) and Stephens — came across the gap to join Cowan and Samuel. The six worked to grow their lead to one minute and 50 seconds to the field as Innokenty Zavyalov (Semper Porro) attempted to join them, but his efforts were snuffed out by a peloton hungry for the finish line.
Last-minute efforts
At about 20 kilometers left in the race, the group's advantage began to fizzle, and Samuel decided to attack the group to thwart the peloton's efforts and pick up first-place KOM points.
With four kilometers remaining, the gap had whittled down to 10 seconds and the majority of the riders in the break were absorbed by the field, save for Samuel and Haidet, who launched attacks as long as they could.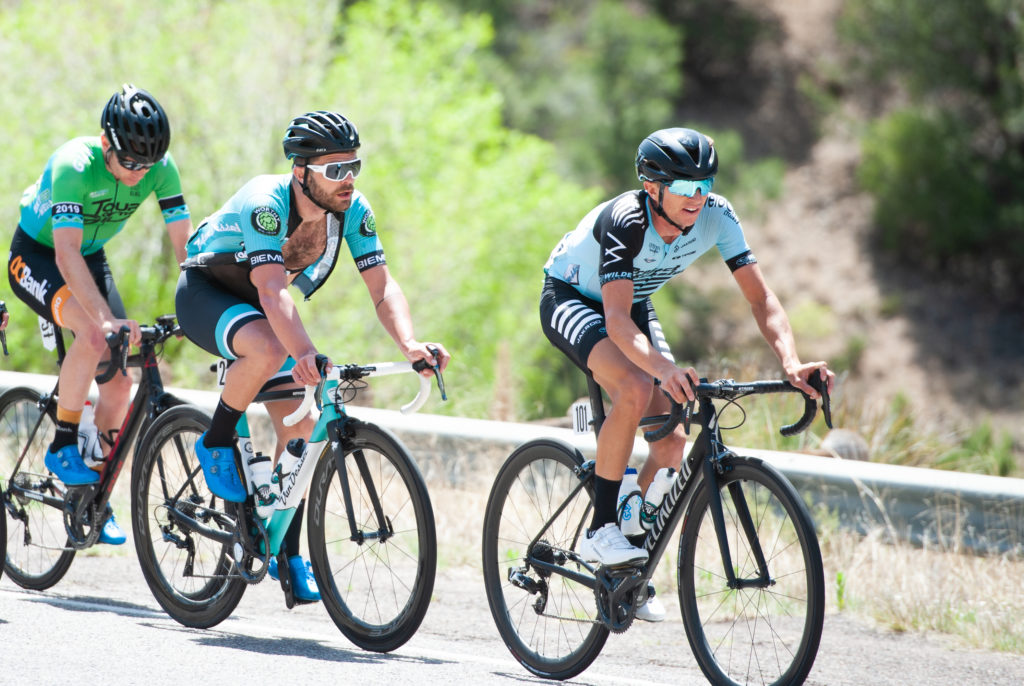 "I love this stage," Greif said. "I knew of all the days where a break could form or the break could succeed it was today, and so I really wanted to try to get in it, and it came close. That descent after the last KOM is long. We had a minute but really needed a minute and a half or two in order to make it to the line, so we got caught 1.5 [kilometers] out."
Haidet fended off the field until about 800 meters to go when sprint trains amassing at the front went into primetime. For Floyd's Pro Cycling, it was now up to McCabe.
As the finish opened up into a long, flat drag, McCabe launched past Aevolo's Hernandez and posted up for the win with Zukowsky by his side.
The peloton finished all together and GC results remained the same. They will head into the Tyrone Individual Time Trials presented by Freeport McMoran tomorrow, an optimal chance to gain time on GC.
General Classification
James Piccoli (Elevate KHS Pro Cycling)
Oscar Miguel Sevilla Rivera (Team Medellín) – 8 seconds back
Eder Frayre Moctezuma (Team California) – 11 seconds back
Sprint Leader
Michael Hernandez (Aevolo)
Travis McCabe (Floyd's Pro Cycling)
Travis Samuel (DC Bank Pro Cycling)
King of the Mountains
James Piccoli (Elevate KHS Pro Cycling)
Cristhian Montoya Giraldo (Team Medellín)
Oscar Miguel Sevilla Rivera (Team Medellín)
Best Young Rider
Nickolas Zukowsky (Floyd's Pro Cycling)
Alex Hoehn (Aevolo)
Barry Miller (Pacific Premier Bank Cycling)
Team Classification
Floyd's Pro Cycling
Aevolo
303 Project
Story by Sarah Muench and Cherry Niel, Clipped In