Ready to Earn Your Badge? Plan to "ride like a pro for a day" as you take on the Gila Monster Gran Fondo and Become Gila Proven.
October 14, 2017, Silver City, New Mexico
You can wear the badge, "Gila Proven," after you have joined us this year's Gila Monster Gran Fondo
ride on October 14th, 2017, in the gorgeous cool mountains of Silver City, New Mexico. Set your goal,
have lots of fun, and enjoy a weekend away, while you become "Gila Proven" with courses covering 115-
78-40 mile journeys. From the amateur and recreational cyclists to those avid cyclists, the Gila Monster
Gran Fondo is fun yet has a competitive edge, too.
The course follows the iconic Tour of the Gila "Gila Monster" road race, covering some of the most
stunning routes in New Mexico. For the Gran Fondo-115 and Medio Fondo-78 rides will start and finish
in Silver City, at Gough Park. For the shorter Nano Fondo-40, riders will start at Camp Thunderbird, with
shuttle service from town, and finish at Gough Park.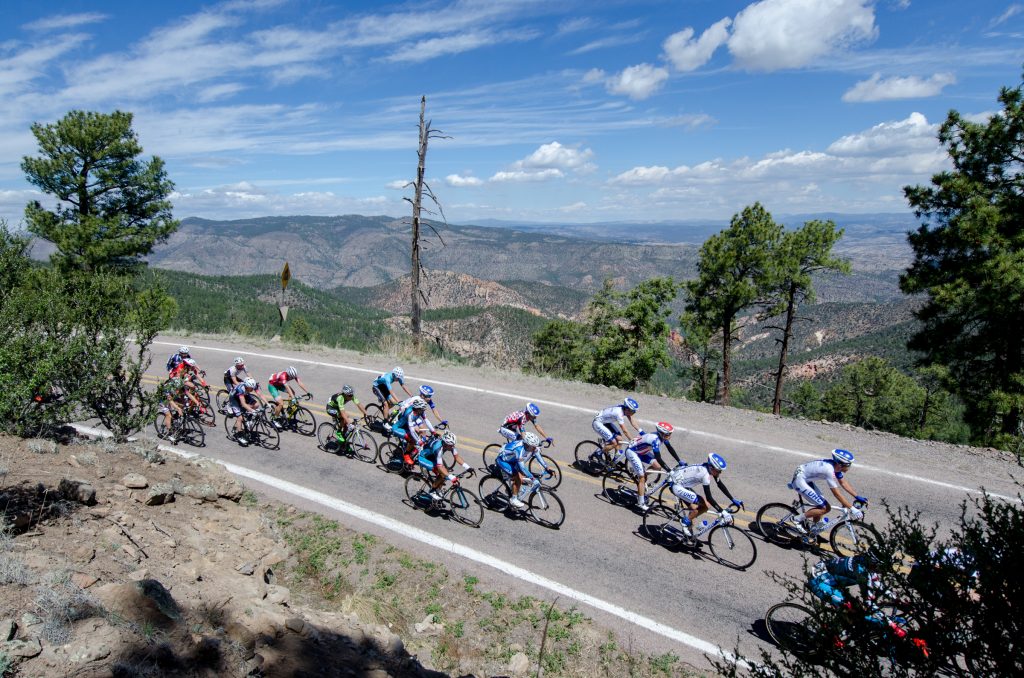 Look forward to a first-class experience. Roving sag wagons and well-appointed rest stations will provide
extra support to get you to that finish line and enhance your experience. Don't miss the chocolate and
strawberry fondue at the top of the Sapillo climb and other special perks along the way. As you roll into
the finish line in downtown Silver City, join the day-long festivities happening at Gough Park for friends
and family, then head to the fondue party at Little Toad Creek Brewery. Come early to join the special
dinner event on Friday night with celebrity guest, course highlights, and riding in the Gila tips. Stay late
to take in all that Silver City has to offer as the Red Dot Art Fest event is also happening in Silver City
where visitors can tour galleries and studios, even participate in workshops, lectures, and view
demonstrations.
Whether riding with your friends or racing your friends, become "Gila Proven" in one of the most
challenging, but fun rides anywhere. You might even find yourself on a podium with a 1 st , 2 nd or 3 rd place
finish for men and women for each course length. There is even a team of 10 first place trophy per
course length, once all 10 cross the finish line. All riders, families, and friends welcome. For more
information call 575-590- 2612.
Registration includes event beer glass, t-shirt, fondue party Saturday night at Little Toad Creek Brewery
and Distillery, 20% off coupon for Saturday night dinner at the fondue party, 2 free pints of beer, and a
great SWAG bag. For an additional $30 per person, enjoy an exceptional pasta full dinner Friday with
celebrity guest and Friday evening activities.
Ride cost is $100 per person, $110 after October 7, 2017. $30 additional per person for special Friday
night dinner event. No refunds after October 9, 2017. Packet pick-up will be on Friday, October 13 th ,
from 3:00pm to 7:00pm at Gila Hike & Bike, 103 E College. Packet pick-up and late registration will be
available at 7:00 am at Gough Park on October 14 th . Do you have what it takes to be "Gila Proven?"
Spend your weekend with us and find out!