James Piccoli (Elevate KHS Pro Cycling) and Brodie Chapman (Team TIBCO-Silicon Valley Bank) ascend to victories in the Mogollon Road Race – Presented by Grant County
UCI Men
The 33rd Annual Tour of the Gila kicked off Wednesday as teams fought for early leads in the five-day stage race, but it was Canadian James Piccoli (Elevate KHS Pro Cycling) who made a final push to outlast the steep competition.
The 25-year-old picked off two Colombian-team climbers in the final two kilometers of Stage 1's brutal Mogollon ascent, giving it everything he had to cross the line first. He carries the leader's jersey on his back going into Thursday's Inner Loop Road Race – Presented by Brian & Lynn Robinson | Southwest Bone & Joint Institute.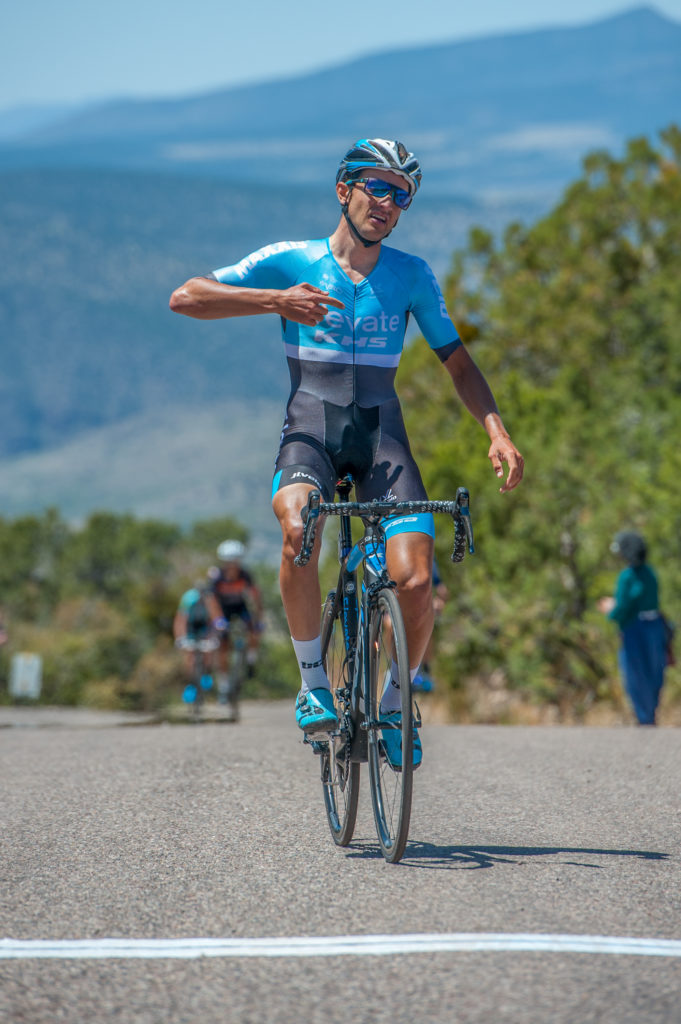 "I was dying a thousand deaths with 1k to go, but I think everyone was," Piccoli said. "Really happy to do it – this has been a dream of mine for a long time, and to be able to do it for the team after they put in such good hard work for me today is special."
Piccoli, who came into Tour of the Gila with GC podium successes at the Joe Martin Stage Race and Tour de Taiwan, said he bided his time with help from his team to keep his legs fresh for the final ascent. He said he wanted to save some energy out of the wind on a flat section just before the climb.
"George [Simpson] did an unbelievable pull, and I started the climb literally first wheel, super fresh, and I really owe it to the team; they did an unbelievable job," Piccoli said. "Midway through the race, the race split and that caught us all a little bit by surprise, but we had everyone from Elevate KHS in the split and we were all super calm and I was super well taken care of all day, and all I really had to do was ride as hard as I can for 10 minutes, so I had it pretty easy."
But the way the race shaped up throughout the day, the finale could have been anyone's guess. Attacks flew in the first few miles as teams attempted to send riders into a breakaway. Then two bulls nearly strode onto the course just as the caravan of race vehicles were passing; law enforcement distracted them with sirens and managed to avert a disaster.
As the field neared the first intermediate sprint, Travis Samuel (DCBank Pro Cycling) nabbed first-place points with Griffin Easter (303 Project) in second and Gabriel Francisco Rojas Campos (Aevolo) in third.
As the pack hit the feed zone, Samuel decided to hit the gas in hopes of doubling down on sprint points. The move put him in a solo break, which Michael Hernandez (Aevolo) joined several miles later.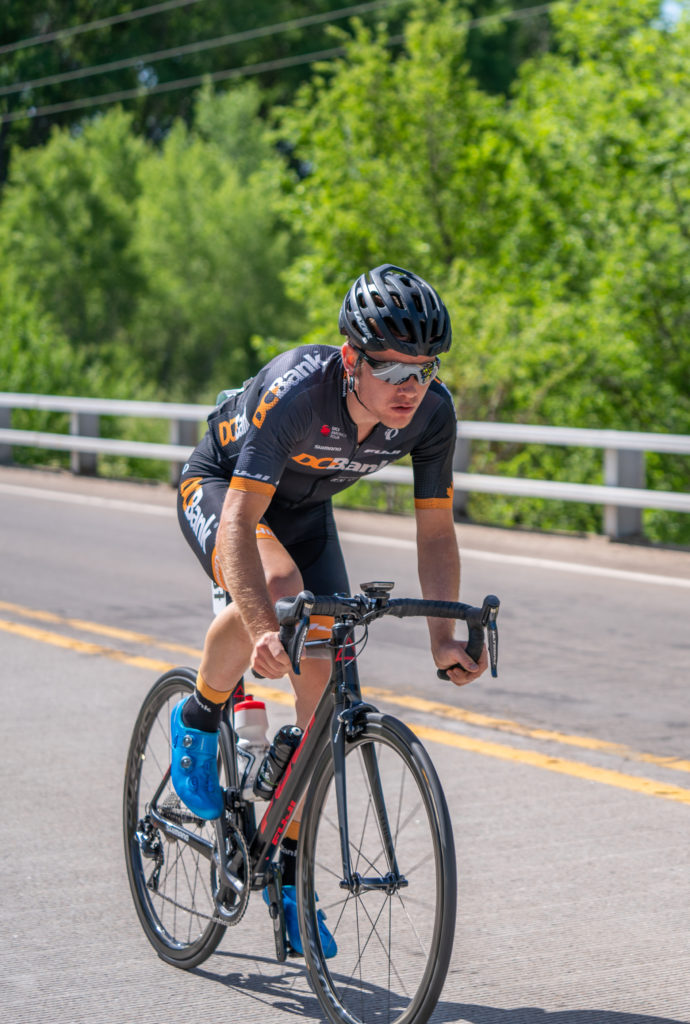 "Coming through the feed zone, I just gave it a little dig and then Hernandez came across a couple [kilometers] later, and we worked really well together," Samuel said.
The two stuck it out – at most with a 3-minute and 25-second gap – until the second intermediate sprint, which Hernandez took. Samuel got second place points, and Rex Roberts (Semper Porro), who was back in the field, took third place points. The peloton then swallowed them up with 28 miles to go.
As the group began to fight for the front of the field, crashes ensued, one with eight riders down and a second with one more going down. Later, Tim Savre (Project Echelon Racing) would also hit the pavement.
With 20 kilometers to go, the peloton was all back together after a split, and it made its way onto State Highway 159 toward the base of the climb. The field splintered into small groups, and at the base of the final climb Óscar Miguel Sevilla Rivera (Team Medellín) began riding away from the field.
A select chase formed with 3.5 kilometers to go. They included Piccoli; Edward Alexander Beltrán Suárez and Cristhian Montoya Giraldo from Team Medellín; Nickolas Zukowsky and Keegan Swirbul from Floyd's Pro Cycling, Alex Hoehn (Aevolo); Marko Pavlič (DC Bank Pro Cycling); and Eder Frayre Moctezuma (Team California).
Piccoli and Montoya Giraldo began to close the gap to Sevilla Rivera, and with less than 2k to go, Piccoli gained a lead on Sevilla Rivera, beating him to the line. Frayre Moctezuma passed Montoya Giraldo and finished in podium position.
Sevilla Rivera, who is from Spain, pointed to a fracture he's nursing in his forearm and said all in all, his team his happy with their performance. He said his team is used to longer climbs in Colombia in more humid weather, but they still thought Mogollon would be a climb they could use to their advantage against a field he considers is in top form.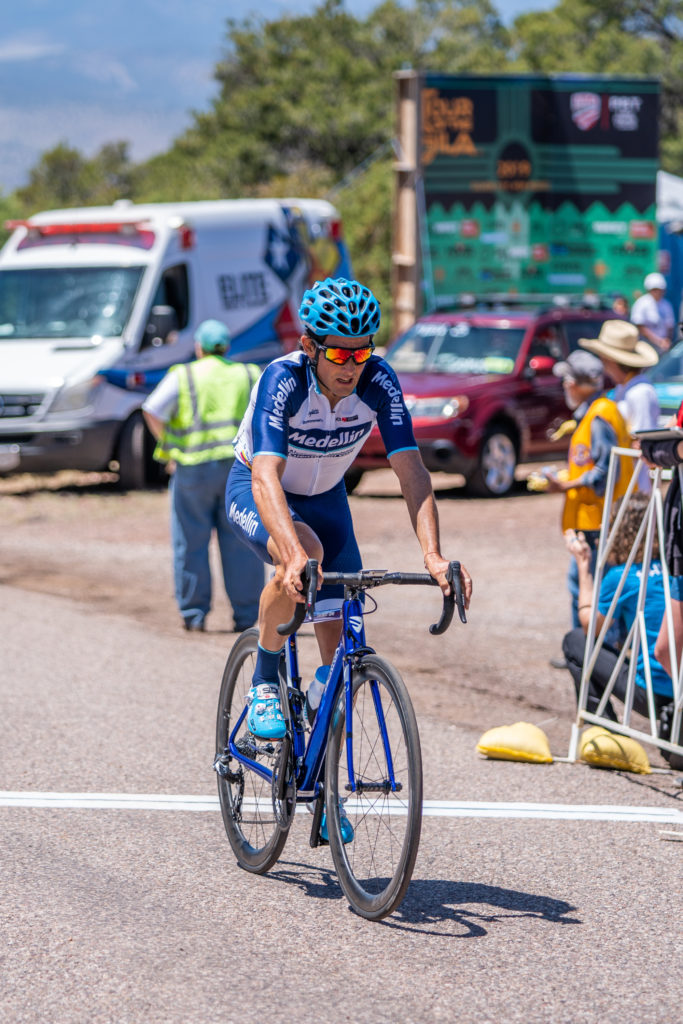 "When I saw [Piccoli] at a kilometer and a half, I waited and thought I could hold his wheel, but he got away, and when it was six or seven seconds, I just didn't have the legs," Sevilla Rivera said in Spanish.
Piccoli has an 8-second lead on Sevilla Rivera heading into Stage 2: Inner Loop Road Race – Presented by Brian & Lynn Robinson | Southwest Bone & Joint Institute.
UCI Women
In one of Tour of the Gila's most competitive women's fields to date, which includes Olympians and national and world champions, it was anyone's game approaching the Mogollon climb as firepower crisscrossed the peloton.
But after a select few got away in the final kilometers, Australian Brodie Chapman (Team TIBCO-Silicon Valley Bank) closed in on former U.S. Hill Climb National Champion Krista Doebel-Hickok (Rally UHC Cycling) and pushed toward the line in the final 200 meters to emerge victorious.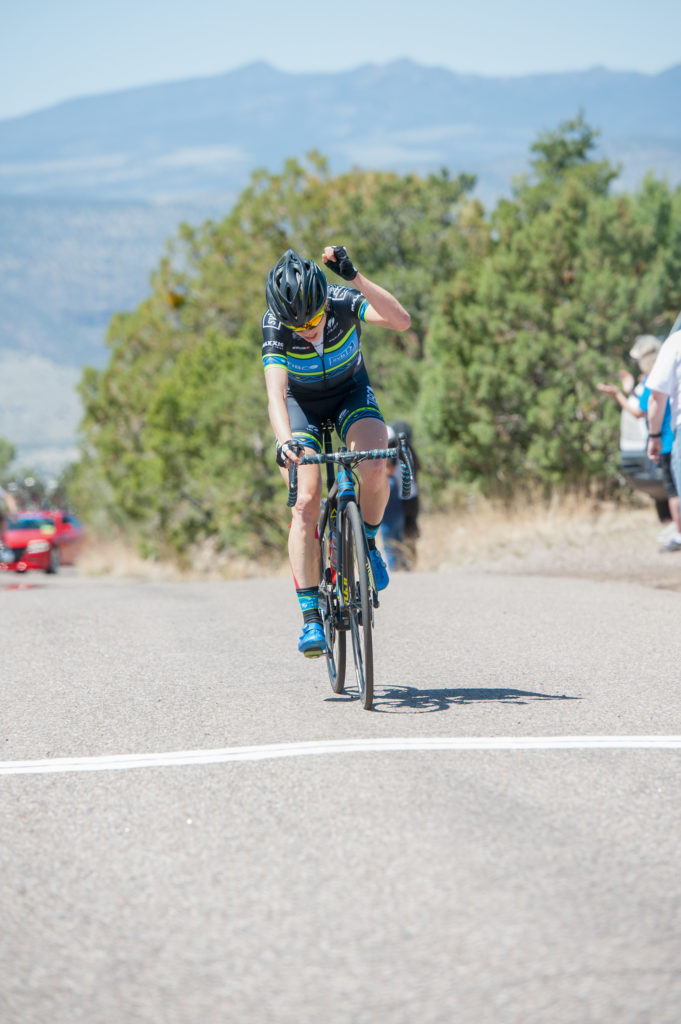 "I just said 'rhythm, rhythm, rhythm'," Chapman said. "I know I can do a good rhythm, and I can finish strong, and that white line fever usually gets me. I just tried to get a bit of time near the end, but it was definitely a close race. [Doebel-Hickok] looked very strong."
Edwige Pitel (Femme Équipe p/b Swisse Wellness), of France, sailed up to meet them, also capitalizing on Doebel-Hickok's expended tank to steal second place. Pitel's huge effort came from back in the peloton, and in the process, she also nabbed Emma Grant (Sho-Air TWENTY20), who had been making her way to a podium slot.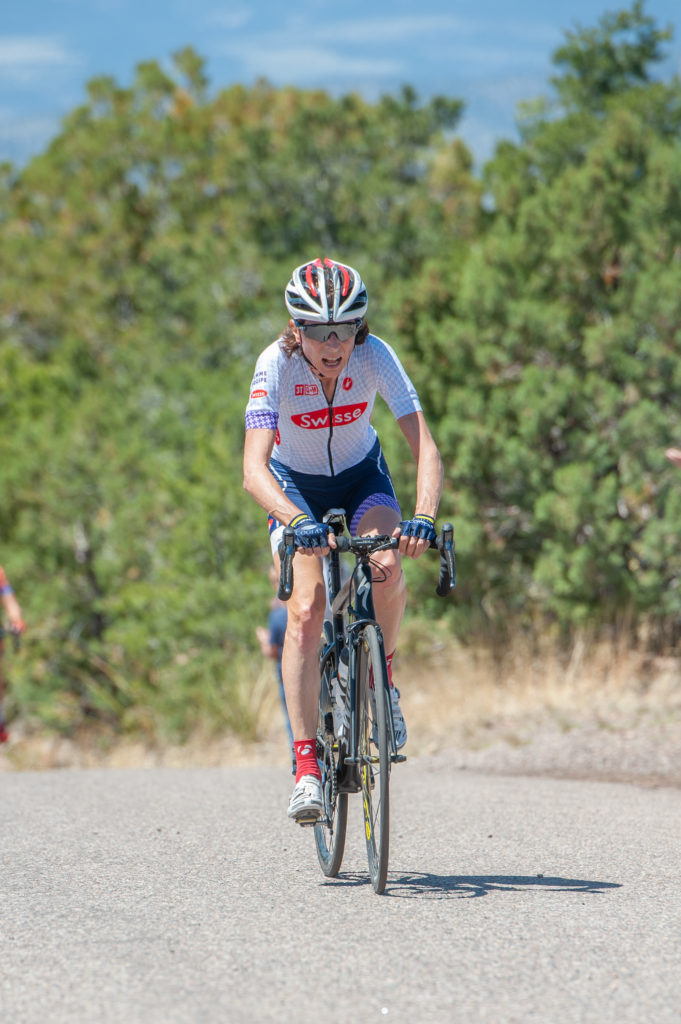 "The last 2k I just paced myself more and more, and then I could see them dying, so it gave me more strength," Pitel said. "I did [the Mogollon climb] in training four days ago and I did it the wrong way … so I said, 'Don't do it again, do it the other way around, it will be better'."
From the beginning, the race was tame as riders sized each other up, waiting for the intermediate sprints.
Both of those competitions opened up as bunch sprints, and Olympic silver medalist, multi-time world champion and recent Joe Martin Stage Race winner Chloé Dygert Owen (Sho-Air TWENTY20) quickly claimed first-place points in the first drag race and second-place points in the next one. Her efforts landed her in the sprinter's jersey for Thursday.
New Zealand's Sharlotte Lucas (Team TIBCO-Silicon Valley Bank) nabbed second-place points in the first intermediate sprint, followed by Starla Teddergreen (Hagens Berman | Supermint). In the second intermediate sprint, Ana Maria Hernandez Delgado (Durango-Specialized) crossed the line first with Lucas in third.
With 25k to go, the peloton began to ramp up the pace and string out during a descent, with Hagens Berman | Supermint setting the pace on the front. But by 20k to go, the group came back together again with Donne Aevolo on the front.
At 4k to go teams finally began to play their cards — Rally UHC Cycling and Sho-Air TWENTY20 ramped up the pace, and within minutes, Doebel-Hickok, Grant and Chapman were riding away from the field and up the Mogollon climb.
Equal gaps began to grow between them at 2k to go, and Doebel-Hickok was pushing a 15-second lead on Chapman. At the 1k mark, Chapman began to gain ground with a 12-second gap at 500 meters. At 200 meters, Chapman cut the gap in half to six seconds. Closing in on the last 100 meters, Chapman passed Doebel-Hickok, when Pitel seemed to appear out of nowhere to nab second.
Chapman will wear the leader's jersey and the Queen of the Mountain jersey going into the Inner Loop Road Race – Presented by Brian & Lynn Robinson | Southwest Bone & Joint Institute Thursday.
She said her team is prepared to defend its 11-second lead.
"For sure, we come here to win bike races," Chapman said. "We'll give it our best crack for sure."
Story by Sarah Muench and Cherry Niel, Clipped In