Final Rosters are in place for the Tour of the Gila 2018 UCI Men's and Women's Professional Teams.
Registrations are finalized for the UCI professional cycling teams. There will be 18 men's teams and 10 women's teams coming to the 32nd Tour of the Gila, in Silver City, New Mexico. UCI teams will experience five days of racing this week, from April 18th-22nd. Teams are from four different continents, with teams from as far away as Australia.
The race has long been an iconic race based on its difficult challenges the courses present from over 10,000 feet of climbing, to 19 percent gradient climbs, to critical descents, and even gusty winds. But whatever the Gila has to offer, teams are sure to be ready for the challenge as many riders are the top of their fields. Olympians, world champions, and Grand Tour winners have all made Tour of the Gila part of their history. Not only do dozens of professional teams answer the call, but numerous amateurs join the race to become "Gila Proven."
Participating Tour of the Gila Professional Teams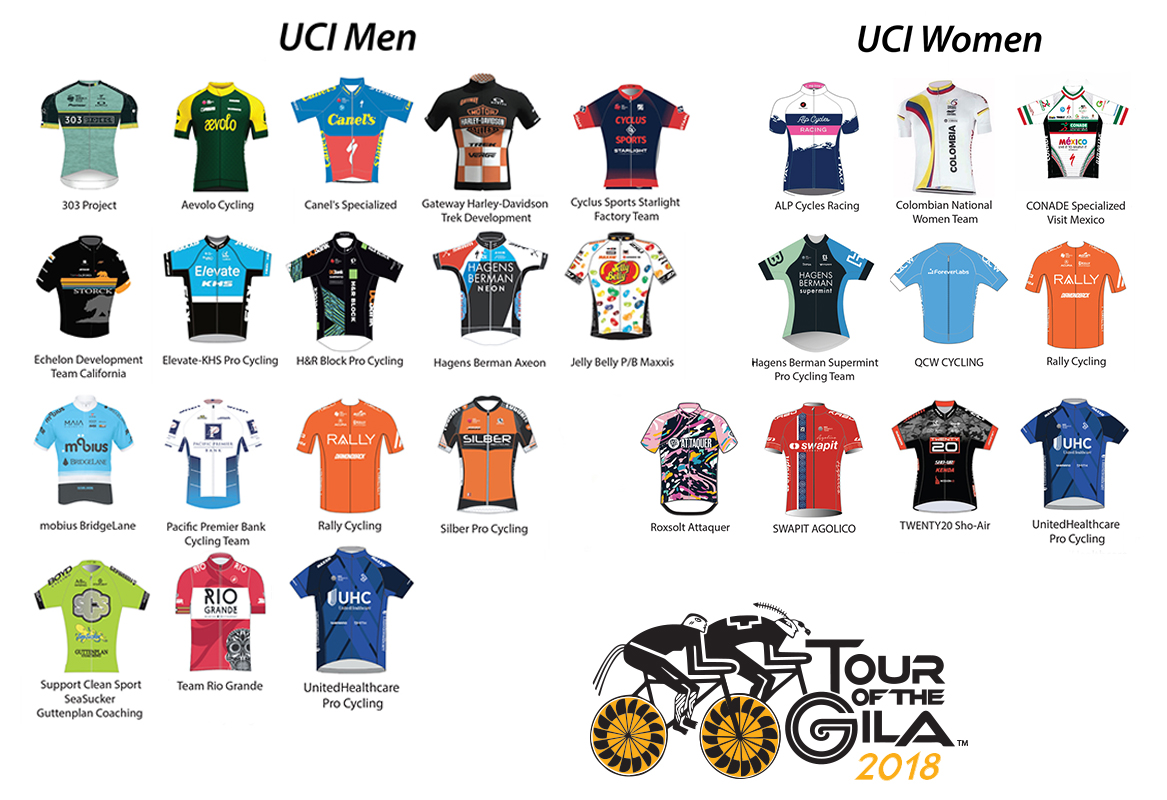 Men's Pro Continental and Continental Teams
303 Project Cycling Team
Aevolo Cycling
Cyclus Sports Starlight Factory Team
Elevate KHS Pro Cycling
H & R Block Pro Cycling
Hagens Berman Axeon
Jelly Belly p/b MAXXIS
Rally Cycling
Silber Pro Cycling
UnitedHealthcare Pro Cycling
Men's Domestic Elite Teams-This USA Cycling category includes road teams that are above a club, but not yet a UCI-Registered team. These Domestic Elite Teams offer a stepping stone to the professional level and better solidify the position of teams competing at the Pro Road Tour.
Echelon Development Team California
Gateway Harley Davidson/Trek Development
Pacific Premier Bank
Rio Grande Elite Cycling Team
Support Clean Sport/SeaSucker/Guttenplan Coaching
Men's Foreign Teams
Canel's Specialized
Costa Rica
Mobius Future Racing
Women's UCI & Domestic Professional Teams
ALP Cycles Racing
QWC Cycling
Hagens Berman Supermint Pro Cycling Team
Rally Cycling
TWENTY20 Sho-Air
UnitedHealthcare Pro Cycling
Women's Foreign Teams
Colombian National Women's team
Conade-Visit Mexico-Specialized
Roxsolt Attaquer
SWAPIT AGOLICO
Legends are born at Tour of the Gila. What riders this year are destined to become legends? Hope to see you there. Wednesday, Stage 1, is the Mogollon Road Race. Thursday, Stage 2, is the Inner Loop. Friday, Stage 3, is the Individual Time Trial. Saturday, Stage 4, in the Downtown Criterium. Sunday, Stage 5, is the Gila Monster Road Race.
On Monday and Tuesday there will be more school visits in the Silver Consolidated School District by team members, if school testing schedules permit. Each of the Cobre Schools Consolidated elementary schools were visited last week. Tour of the Gila thanks all who participated in making these school visits so special.