Ready for some hard hitting climbing? Stage 1 will not disappoint.
No one really seems to know what to expect on the first day if you have not previously experienced the Tour of the Gila and the map may look rather deceptive. However, Day 1 sets the tone for all the other stages and either calms fears or adds to them. …And this year, Stage 1, The Mogollon Road Race, returns to its original trek. Since the inception of the race, for the exception of last year due to flooding in the region, Stage 1 has finished with a tremendous climb that peaks at 19% gradient.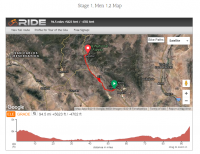 In 2016, the last time the race finished where it returns to this year, Leah Thomas reported, "the last three miles of the climb averaged over 8%, with pitches that were much steeper….Ouch! With a rocking tailwind, the race was BLAZING fast-we averaged 27.1 mph over the first 66 miles or so leading into the final climb…Mara Abbot set a blistering pace up the climb, and finished first, Katie Hall second and Kristin Armstrong crossed the line right behind her to round out the podium."
Experience the Tour of the Gila in 2018 where notable finishes happen with every stage. Special jerseys are awarded throughout the race. Watch for the General Classification Leader's red jersey, the sprinter green jersey sponsored by SkyWest Media, the King of the Mountain (KOM) and Queen of the Mountain (QOM) polka dot jerseys sponsored by Freeport McMoRan, and the Best Young Rider white jersey sponsored by Brian and Lynn Robinson and Southwest Bone and Joint Institute.
Fun name pronunciation hint: Most longtime locals say Mogollon as mug-ee-own.