DOWNTOWN SILVER CITY CRITERIUM
STAGE 4: SATURDAY, APRIL 21, 2018
Below is a look at the 2017 race specifics. Check back in the spring for 2018 event details.
Start/finish line is at Bullard St. and 6th St., downtown Silver City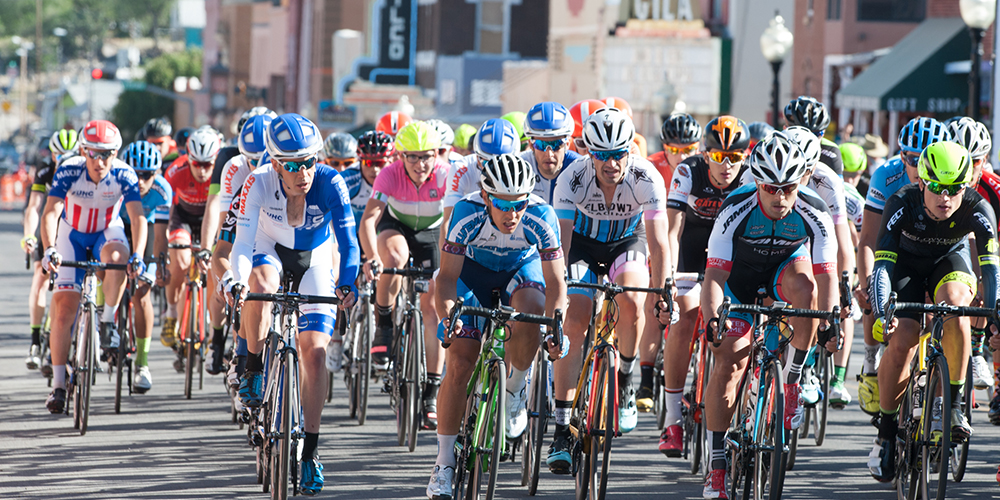 With all of the action happening in Downtown Silver City, the criterium is by far the most popular event at the Tour of the Gila. The entire day brings racing to the Historic Downtown area of Silver City with a closed course covering Bullard, College, Cooper and Broadway streets.
One of the favorite viewing spots is the corner of Broadway and Bullard, where racers negotiate a 90-degree corner while reaching speeds in excess of 65 kmph, doing it over and over again. The start/finish line at 6th and Bullard will have people lined up 3 deep to watch exciting finish sprints. Don't forget the back stretch, which includes a downhill section often causing racers to 'catch air' as they come over 6th and Cooper.
This fun-filled day offers something for everyone. The children can start off with a free bicycle rodeo on College St which leads into the ever-popular citizen races at mid-day.
Enjoy craft beers served at the Little Toad Brewery Beer Garden, at the corner of College and Bullard, with live music from local band Shotgun Calliope from 3:00 pm to 6:00 pm.
Enjoy the vibrant historic-area galleries, merchants and restaurants which offer great places to stop in to cool down, shop and partake of Silver City's great dining scene. The UCI Men race will round out the day of racing, ending their test of stamina and endurance after 40 laps. Put the cowbells to work and cheer your favorite team on!
| Time | Class | Distance |
| --- | --- | --- |
| 8:00 am | Women 3, 4,5 | 12.9 miles(20.8km) |
| 8:45 am | Men 4,5 | 16.2 miles(26.1km) |
| 9:35 am | Master Men B | 16.2 miles(26.1km) |
| 10:25 am | Men 3 | 21.6 miles(34.8km) |
| 11:25 am | Master Men A | 21.6 miles(34.8km) |
| 12:30 pm | Citizens | Varies by age group |
| 1:30 pm | UCI Women | 27.0 miles(43.5km) |
| 2:45 pm | Men 1,2 | 32.4 miles(52.1km) |
| 4:15 pm | UCI Men | 43.2 miles(69.5km) |
A closer look at Stage 4: The Downtown Silver City Criterium
Details for both:
On the Course: 3 bonus sprints: time bonuses for 1st, 2nd, and 3rd, cash award for 1st and sprinter points for 1st, 2nd and 3rd.
At the Finish: time bonuses for 1st, 2nd and 3rd and sprinter points for 1st through 10th.
Jerseys awarded at the end of the stage are:
General Classification Leader's Jersey (Red)
Sprinter Jersey (Green) sponsored by Skywest Media
KOM/QOM Jersey (Polka Dots) sponsored by Freeport McMoRan
Best Young Rider Jersey (White) sponsored by Brian & Lynn Robinson and Southwest Bone & Joint Institut